YES design
Headquarters
Cordovado, Italy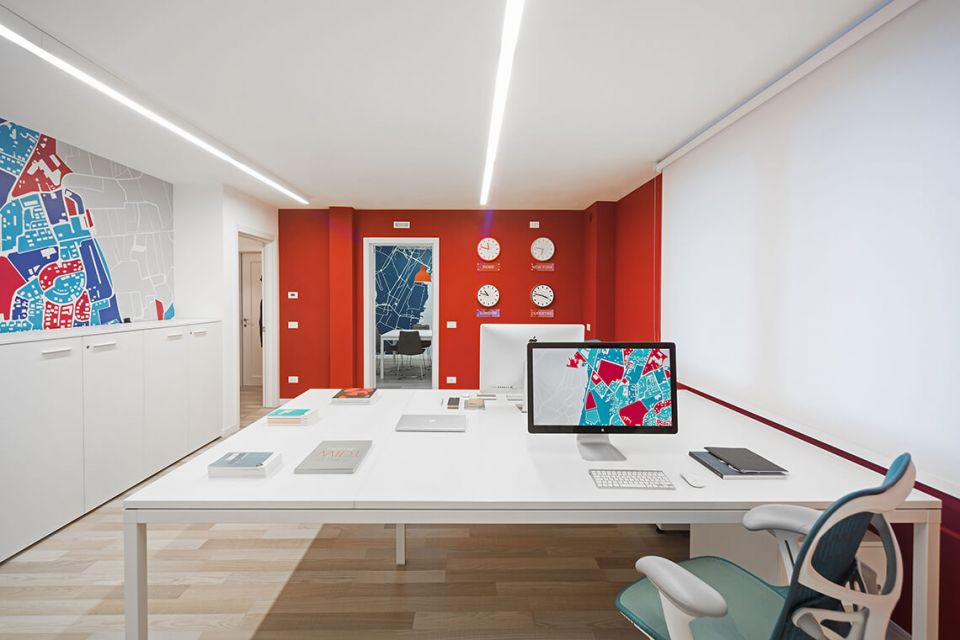 planBstudio was commissioned to develop the interiors of the Italian web agency YESdesign.
The project creates a meeting point between the real space and the space represented. These visual levels are connected through graphics: the custom-made wallpaper is an enlarged map of New York City and Cordovado and tells the story of YESdesign .
The main space includes two operational desks and a versatile workstation, while a storage space and ergonomic seats complete the office area. In addition, the meeting room features a glass whiteboard and custom-made elements.
Lighting is an integral part of the project. Two linear light profiles are placed in the main room and cross the ceiling to brighten the space evenly and emphasize the colors of the surfaces. The meeting room features indirect lighting elements installed above a custom-made metal plate that also holds three silicone rubber suspension lamps.
planBstudio translated the agency's objectives into the space, telling its story through a particular design language. Attention to detail and the precise selection of furnishings bring to life a creative play of light, color, and graphics.
photocredit: Andrea Penisto